User input, fields and buttons
The parametrization is built up by means of input fields that can be filled in and/or buttons that can be clicked by the user.
Input fields​
Different types of input fields can be used, For each input field, arguments can be specified to set specific options and/or constraints such as the default, minimum, or maximum value. See Field for all possible options.
The following input fields are available:
Numeric input​

Numbers with decimals can be specified using a NumberField

Slider is a visual variant of the NumberField

The IntegerField can contain integers only
Textual input​

Short text can be specified in a TextField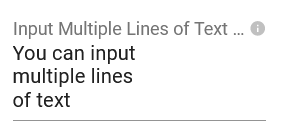 Long text can be specified in a TextAreaField
Options & selections​
Entity selection​
Map features​
Define a geo-point on a MapView using a GeoPointField
Define a geo-polyline on a MapView using a GeoPolylineField
Define a geo-polygon on a MapView using a GeoPolygonField
File upload​

Upload a single file using a FileField

Upload multiple files at once using a MultiFileField
Other​
Tables & arrays​
If the user must be able to make a dynamic number of objects sharing the same properties, tables or arrays can be used.
Draw a table consisting of rows and columns using Table
Bundle fields in rows and let the user add rows using a DynamicArray
Action buttons​
In addition to the input fields, action buttons can be added to the parametrization to enable user actions. The following table gives an overview of all action buttons:
Read-only fields​
The fields below can be used to guide users by providing more context, without the user being able to edit the values.

Show a (dynamic) value using an OutputField
Show a static text using Text
Show a static image using Image